2022-2023 Class of Fellows
Social Media: The Real Campus Speech Zone
ABOUT THE RESEARCH
This collaborative research project and related publication and dissemination plan will identify the challenges and opportunities related to online speech of college students, specifically in relation to social media. These platforms can help build communities and provide robust platforms for free speech and expression. But, online speech continues to present challenges for colleges and universities and members of campus communities.
About the Fellows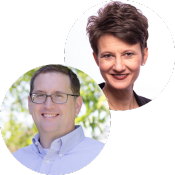 Neal Hutchens & Brandi Hephner LaBanc
Watch this video to learn more about Neal & Brandi's project


Professor of Educational Policy Studies and Evaluation, University of Kentucky; Vice President for Student Engagement and Enrollment Services, Old Dominion University
READ AND DOWNLOAD
Learn More – Fellows in the Field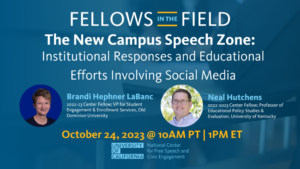 The Center's Fellows are critical to advancing the important work of helping educational institutions foster environments that protect free expression, encourage activism and promote diversity and inclusion. At the conclusion of the annual Fellows Program, the Center is proud to host a series of digital workshops, highlighting the Fellows' research and findings through interactive Fellows in the Field sessions. Neal and Brandi's webinar will be held on October 24, 2023 – Register Now!