Stay in the loop to be the first to know about future events. Sign up for our mailing list:
UPCOMING EVENTS
The New Campus Speech Zone: Institutional Responses and Educational Efforts Involving Social Media
Tuesday, October 24, 2023 — 10am PT | 1pm ET
Featuring: Brandi Hephner LaBanc & Neal Hutchens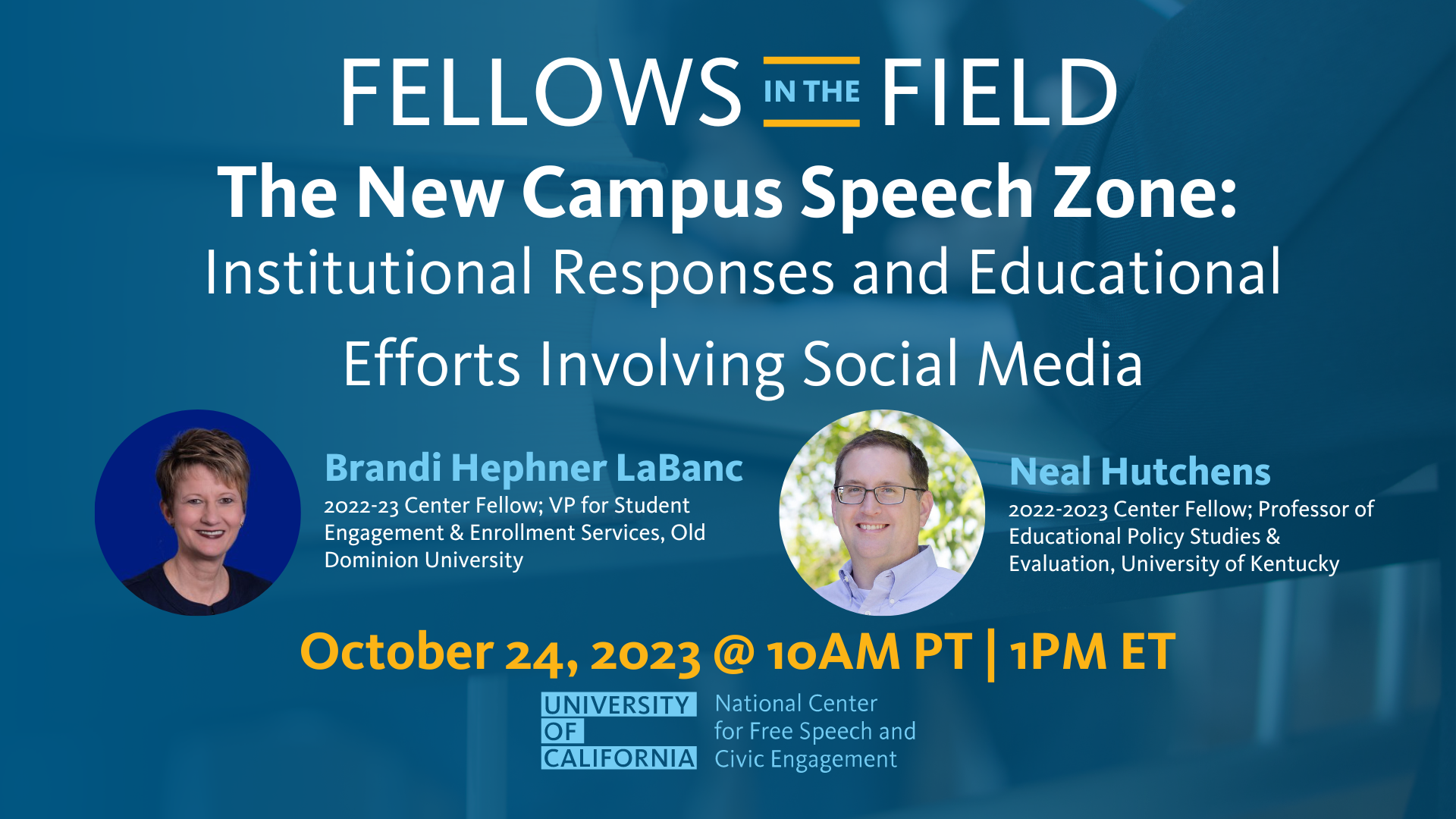 Institutions of higher education continue to find themselves in the headlines – embroiled in free speech controversies that often stem from online posts or videos that go viral. Center Fellows, Dr. Neal Hutchens and Dr. Brandi Hephner LaBanc will share how best to utilize their toolkit created to help campus members understand the intersections of social media and expression. This session will include best practices that will prepare campus communities for these challenging moments and support individuals and groups that are negatively impacted by the online speech.
---
What Students Can Teach Us About Free Speech and Inclusion: It's Complicated
Wednesday, November 29, 2023 — 11am PT | 2pm ET
Featuring: Elizabeth Niehaus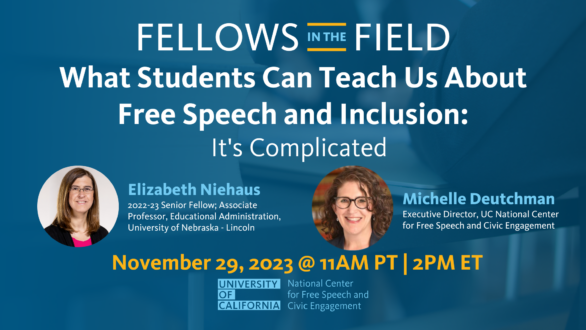 Classroom discussions, particularly around controversial issues, are hard. Yet the narrative around "student self-censorship," widely accepted in the current higher education discourse, leads us to believe that the problem is with students shouting each other down or just being too scared to speak up. By understanding the "problem" of free speech on campus not as a problem, but as a series of challenges facing students as they navigate the complexities of discussing controversial issues with diverse peers, we can develop better strategies to promote robust, productive classroom discussions.
---
RECENT EVENTS
Law-Based Threats to Academic Freedom and Racial Inclusion
Tuesday, August 29, 2023
Featuring: Jacqueline Pedota & Liliana Garces
The rights afforded to faculty under academic freedom are at risk amid the proliferation of legislation that seeks to restrict teaching and knowledge production focused on race. These well-funded, coordinated attacks could have severe negative consequences for racial inclusion as they specifically target the crucial role faculty play in promoting racial inclusion through their teaching, research, and service.
As legislative efforts continue, faculty, administrators, and external organizations (e.g., AAUP, Pen America) must build coalitions and work together to combat these law-based threats. Center Fellow Jackie Pedota, Doctoral Candidate at the University of Texas at Austin, will be joined by Dr. Liliana Garces, Professor of Educational Leadership and Policy at the University of Texas at Austin, to discuss possible actions administrators and faculty can take to uphold both academic freedom and racial inclusion.
---
#SpeechMatters 2023: Fighting for our Democratic Freedoms
Thursday, March 23, 2023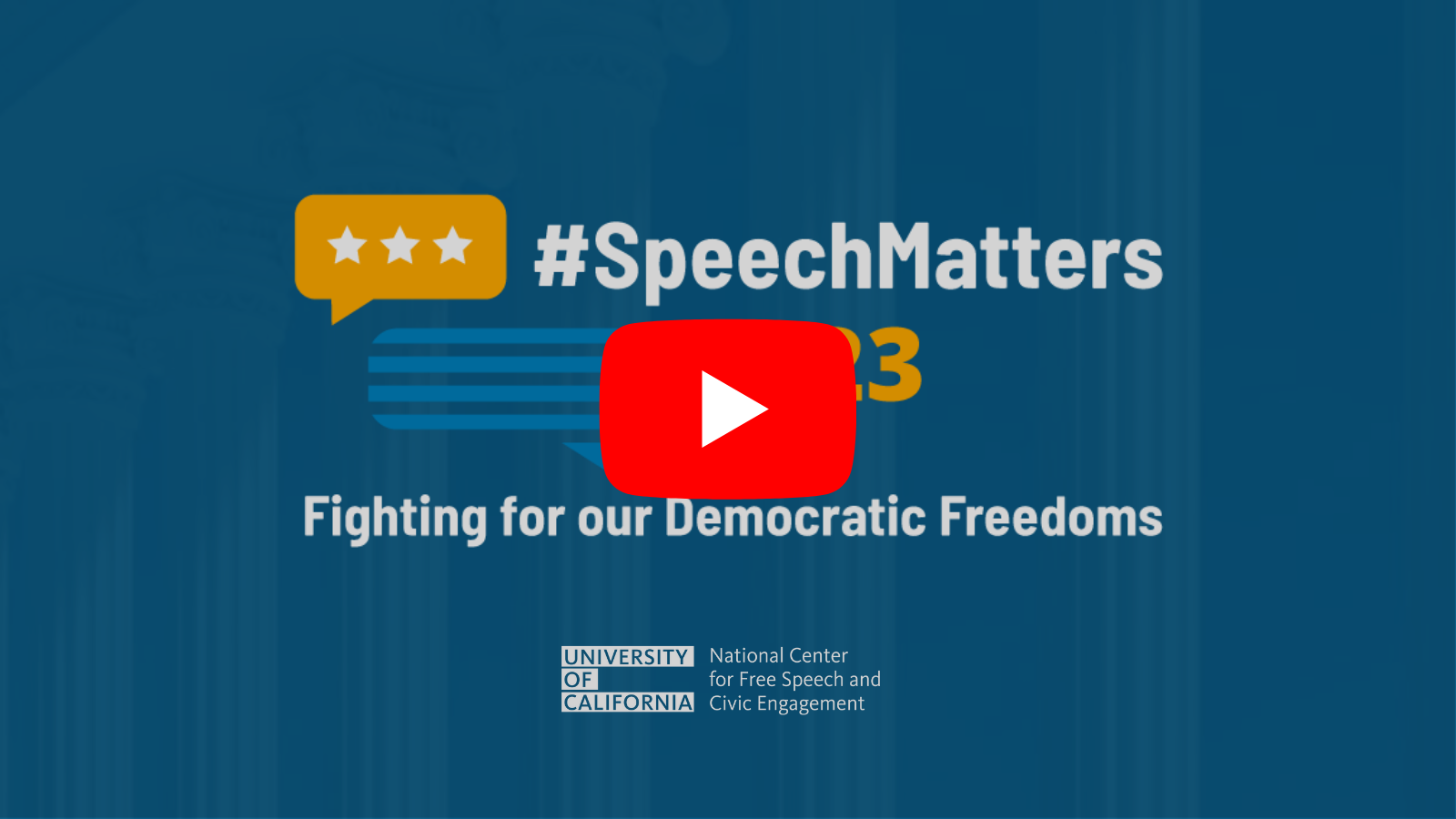 In the last year, we have seen our democratic values significantly weakened by political polarization and misinformation. Institutions of higher education – traditionally viewed as havens for access to knowledge and reasoned debate – have faced challenges to academic and personal freedoms that have rippled across our democracy. From state legislation aimed at censoring curriculum to controversial Supreme Court decisions, our fifth annual #SpeechMatters conference explored ways for campuses nationwide to protect our democratic freedoms.
#SpeechMatters: Fighting for our Democratic Freedoms was held virtually on Thursday, March 23, 2023. Along with leaders from higher education, politics, media and civil society, we worked to build strategies to improve our democracy and ensure that everyone's voice is heard.
Click here for to view video recordings from the event sessions!
---
Beyond Voting: Nurturing Democracy on Campus
Wednesday, November 16, 2022
Although ballots have been cast in the midterms, higher education's role in fostering democratic engagement on campus is far from over. On November 16, join four civic experts―Alexander Edgar, UC Berkeley Vote Coalition Director; Brian Hughes, Co-founder and Associate Director, Polarization and Extremism Research and Innovation Lab (PERIL); Nancy Thomas, Director, Institute for Democracy & Higher Education, Tufts University; and Dawn Whitehead, Vice President, Office of Global Citizenship for Campus, Community, and Careers, American Association of Colleges and Universities (AAC&U)―for a dynamic conversation about the importance of student engagement and how to institutionalize civic participation and democratic learning year-round.
---
Art and Porn on Campus
Thursday, October 13, 2022 
Featuring: Lynn Comella & Amy Werbel
Two interesting and provocative topics, each studied by a Center Fellow. Lynn Comella, Professor of Gender and Sexuality Studies at University of Nevada at Las Vegas, utilized the campus flashpoint of pornography in order to develop best practices and policy recommendations for strengthening speech and academic freedom initiatives. Amy Werbel, Professor of the History of Art at the State University of New York, Fashion Institute of Technology analyzed freedom of artistic expression (or lack thereof) in academic museums and galleries. 
On October 13, join Lynn and Amy for a discussion that will explore how faculty and curators navigate institutional restraints and external pressures which, in turn, lead to increased self-censorship and concerns about the future of expression in higher education.
---
The Shifting Landscape: Bias Response Teams and Emerging Alternatives
Tuesday, August 23, 2022 
Featuring: Ryan A. Miller
Bias response teams (BRTs) represent one of the most polarizing current debates about free speech and equity in higher education. Hundreds of colleges and universities have created BRTs to receive reports of bias and hate incidents on campus from students and employees. BRTs often focus their work on speech and expression which may be protected by law or policy, but which has a negative impact on campus constituencies. Their presence prompts questions about the compatibility and balancing of various values including creating a welcoming campus climate and valuing free expression. Advocacy groups have launched lawsuits challenging BRTs and their procedures in public institutions.
Given this contentious climate, some colleges and universities are revisiting their bias response procedures and crafting alternative educational and response mechanisms. Center Fellow Dr. Ryan Miller, Associate Professor of Higher Education at UNC Charlotte, will be joined by Dr. Liliana Garces, Associate Professor of Educational Leadership and Policy at the University of Texas at Austin, to discuss the current landscape for bias response in higher education.
---
Cultivating Constructive Dialogue in the Classroom (Workshop)
Thursday, August 11, 2022 
Featuring: Jacob Fay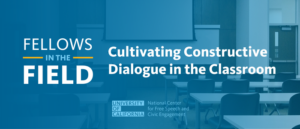 In this interactive session, Jacob Fay will share lessons about cultivating constructive dialogue in the higher ed classroom. Drawing from his experience developing a multi-institutional partnership committed to civil disagreement, as well as his work at a civic non-profit organization, Fay will guide participants through practices that help lay the foundation for having hard conversations across difference, as well as situate those practices within an emerging pedagogical theory of change and democratic theory. NOTE: The event was not recorded.
---
#SpeechMatters: Safeguarding Democracy
Our fourth annual conference – #SpeechMatters: Safeguarding Democracy – was held virtually on Wednesday, April 6th and Thursday, April 7th, 2022. Click here for more information; full videos from the event are available here.
---
Speech Spotlight Live: Student Activism Against Sexual Violence on Campus
Wednesday, February 23, 2022
Whether protesting outside fraternity houses, coordinating walk-outs or gathering 50,000 signatures to petition a rollback of the Trump administration's Title IX rules, the past year saw a continuation of student activism against sexual violence on college campuses. Does amplification of this issue lead to substantive change? How do universities balance speech and due process in their efforts to combat sexual violence and foster cultures of safety, respect and accountability?
Join Tommy Jung, member of UC's Title IX Student Advisory Board, Danésha Nichols, Director, Harassment & Discrimination Assistance and Prevention Program at UC Davis, and Suzanne Taylor, UC's Systemwide Title IX Director for a discussion of these important and challenging questions.
---

Speech Spotlight Live: Is Academic Freedom Under Siege?
Friday, December 10, 2021
Featuring: Brian Soucek
Recent news is replete with stories of threats to academic freedom: a public university prohibiting professors from testifying against a piece of state legislation, a professor stepping back from teaching after showing a controversial version of a film, questions about the impact of academic departments and associations taking positions on current social and political events. Join three preeminent scholars: Sigal Ben-Porath, Professor of Education, University of Pennsylvania, and author of Free Speech on Campus, Henry Reichman, former chair of the AAUP's Committee A on Academic Freedom and Tenure and author of Understanding Academic Freedom and Brian Soucek, UC Davis Law professor and former chair of the UC Senate Committee on Academic Freedom, for a discussion about the gravity of these dangers and what steps need to be taken to safeguard this vital principle of university life.
---
Administrator Balancing Acts: Free Speech, Diversity and Identity
Wednesday, October 27, 2021
Featuring: Cerri Banks and Jennifer Lambe
When discussing campus expression, one question seems to endure: How do campus stakeholders safeguard both free speech and diversity and inclusion? Two Center fellows, Dr. Cerri Banks, Vice President for Student Success and Deputy to the Senior Vice President, Student Experience at Syracuse University and Dr. Jennifer Lambe, Associate Professor of Communication at University of Delaware spent their fellowship year studying different aspects of this query. Through interviews with Black college administrators from around the country, Cerri explored the relationship between Black students and Black administrators as it relates to free speech, social media, and activism. Jenny surveyed the membership of the National Association of Diversity Officers in Higher Education in order to report on diversity officers' experiences navigating the tensions between diversity and free expression.
---

Make Your Voice Heard: Undocumented Students at UC, Free Speech, Civic and Political Engagement
Friday, October 1, 2021
Featuring: Ernesto Arciniega
The University of California (UC) was the first university to sue the Department of Homeland Security for its rescission of Deferred Action for Childhood Arrivals (DACA), joining the many students and allies in the fight to safeguard the rights of the approximately 650,000 DACA recipients in the United States – almost 200,000 of which reside in California. Ernesto Arciniega, a 20-21 Center fellow and a Ph.D. candidate in Hispanic Literatures at UCLA, has dedicated seven years to shedding light on the challenges that undocumented students face in the UC system – especially with regard to free speech, civic and political engagement. Through his fellowship work and in his role as the Vice Chair of the UC Graduate and Professional Council he has raised awareness of key concerns and created recommendations to further support of undocumented students. In this webinar, Ernesto is joined by Alondra Avalos, Chair of UC Undocumented Student Coalition and Yadira Hernandez, former Assistant Director of the UCI DREAM Center for a dynamic conversation about what is next for undocumented students at UC and nationwide.
---

Crises on Campus: Exposing Simplistic Narratives Around Politics and Speech in Higher Education
Wednesday, September 22, 2021
Featuring: Nicholas Havey and Elizabeth Niehaus
This webinar features two 2020-2021 Center fellows: Elizabeth Niehaus, Associate Professor at the University of Nebraska, and Nick Havey, doctoral candidate at the University of California, Los Angeles. Elizabeth spent the past year exploring how students make decisions about when, whether, and how to speak up in class about controversial issues, problematizing the idea of the self-censorship crisis on campus. Nick spent the past year using digital trace data to explore how students identify politically in the interest of assessing whether there is a particular political skew on the nation's campuses. Both of these projects help us understand how current narratives about politics and speech on campus, often based on limited self-report survey data flatten conversation and emphasize the extremes, rather than identify concrete problems and solutions.
---
Beyond Skokie: Speech in the Age of Hate
Thursday, August 19, 2021
Featuring: Ryan Coonerty
"Beyond Skokie: Speech in the Age of Hate," featured 2020-21 Center fellow Ryan Coonerty, Third District Supervisor for Santa Cruz County, California and Lecturer, Legal Studies at UC Santa Cruz. Ryan spent the year developing a curriculum built around the famous 1970s court case that arose after a group of Nazis planned a march in Skokie, Illinois, a suburb of Chicago with the highest per capita population of Holocaust survivors in the United States at the time. Skokie officials attempted to use legal avenues to block the demonstration and protect the community. The Nazis, represented by the ACLU, sued on free speech grounds, and won. Ryan's curriculum highlights how the issues raised in Skokie have only become more relevant, especially in light of more recent events like the Charlottesville protests and the Capitol insurrection. This webinar looks at the historic trial and how it can be used to foster conversations about today's challenges.
---
Tweets, Threats and Censorship: Supporting Faculty through Incidents of Targeted Harassment
Wednesday, July 21, 2021
Featuring: Nina M. Flores
>
The targeted harassment of faculty for their scholarship, teaching, and civic engagement by members of the public is an ongoing, critical issue. 2020-21 Center fellow, Nina M. Flores, Assistant Professor of Social and Cultural Analysis of Education at California State University Long Beach spent the past year interviewing scholars who were targets of harassment by individuals, groups, and organizations. She examined campus responses, the types of formal and informal support faculty received, the implications for silencing and self-censorship, and developed a series of information and strategy sessions designed for use by individual faculty members or their institutions. In this workshop, Nina will be joined by Jonathan Graubart, Professor of political science at San Diego State University, who will share his personal experience being targeted after a social media post went viral.
---
Finding Common Ground: Students, Law Enforcement and Free Speech Policies
Tuesday, June 22, 2021
Featuring: Jill Dunlap & Alice Yau
Campus protests can result in a push and pull between student activists and campus law enforcement that boils over, with harm caused to both communities. 2020-21 Center fellows Jill Dunlap, Senior Director for Research, Policy, and Civic Engagement at NASPA and Alice Yau, Officer-Instructor-Trainer in the Chicago Police Department, spent the past year interviewing students and campus law enforcement around the country in order to explore how to mitigate that harm through training about free speech policies and procedures on campus.
---
Stay in the loop to be the first to know about future events. Sign up for our mailing list: