2020-2021 Class of Fellows
Lighting the Way for Undocumented Students at UC: Free Speech, Civic and Political Engagement
Research completed by: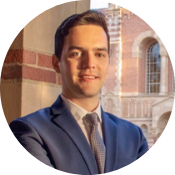 Ernesto Arciniega
2020-2021 Fellow
UCLA PhD Candidate in Hispanic Literatures,
Vice Chair of the UC Graduate and Professional Council
---
ABOUT THE RESEARCH
The article "Lighting the Way for Undocumented Students at UC: Free Speech, Civic and Political Engagement" sheds light on the challenges that undocumented students at the University of California system face with regards to free speech, civic and political engagement. This piece also gives voice to UC student leaders, staff, faculty, and administration on how to better serve, protect, and support undocumented students and their expression.
---
READ & DOWNLOAD
---
RECOMMENDATIONS
The following is a list of recommendations for the University of California Office of the President (UCOP) on advocacy, policies, and services to better support undocumented students, protect their freedom of speech, and enhance their civic and political engagement at the ten campuses of the University of California system and nationwide.
---
JANUARY PANEL EVENT
On January 5th, 2021, Ernesto facilitated a panel discussion with the principal undergraduate and graduate student leaders of the University of California system. In dialogue with Aidan Arasasingham (President of the UC Student Association –UCSA), Gwen Chodur (President of the UC Graduate and Professional Council –UCGPC), Victor Wang (Chair of UCGPC), and Alondra Avalos (UCLA Representative to the UC Undocumented Student Coalition), this group of student leaders addressed questions of how undocumented students at UC and nationwide face numerous obstacles including funding/financial inaccessibility, housing/food/job insecurity, mental health risk and social stressors. Panelists discussed future efforts to support and uplift undocumented students and shared recommendations for how UC, the state and federal governments can better serve and support undocumented students, their expression and role in democratic engagement.
---
FELLOWS IN THE FIELD: ERNESTO ARCINIEGA