2020-2021 Class of Fellows
Are Campuses Echo Chambers: Exploring the Information Networks of Contemporary Students
Research completed by: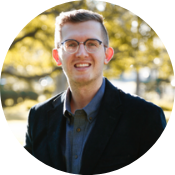 Nicholas Havey
2020-2021 Fellow
PhD UCLA Higher Education and
Organizational Change PhD Candidate
---
ABOUT THE RESEARCH
Nick's project uses big data from Twitter to construct and analyze the information networks of politically engaged students. He looks specifically at ideological homophily (are students existing in echo chambers?) and source credibility to understand student information diets and how homophilous networks may impact digital literacy and exposure to misinformation.
---
READ & DOWNLOAD
---
FELLOWS IN THE FIELD: NICHOLAS HAVEY